We are excited to announce our 2nd annual Husky Camp at Hightower Trail Middle School!  
Registration is on a first-come first-served basis and class size is limited. All Cobb County School District policies in the student handbook apply and must be followed. Students may be withdrawn from the camp for discipline problems or at the principal's discretion.
A parent or guardian must accompany the camper on the first day of camp to complete a liability waiver and release form and emergency contact/medical information form.
Q & A
Who may attend this camp? Rising 6th – 9th graders
When and where is camp? (Monday – Thursday) June 3-6,  June 10-13, and June 17-20.  There are two sessions per day Morning:  9:00-12:00  and Afternoon: 1:00-4:00 The camp is held at Hightower Trail Middle School
Do you provide lunch if my camper stays for the entire day? No. Student must provide lunch if staying for both AM & PM sessions in the same week. HTMS does not provide lunch.
How do I register? Registration is online only. Click the "REGISTER HERE" link below.
How do I pay? Online credit card payment is available.
What if my class is full? Please send us a note through the "Contact Us" link on the online registration form. You will be added to a waiting list and an additional class may be added.
Additional Information:  If you have more than one camper attending, please register one child at a time.  One shopping cart per camper.  
---
* T-Shirt will be available for purchase at the camp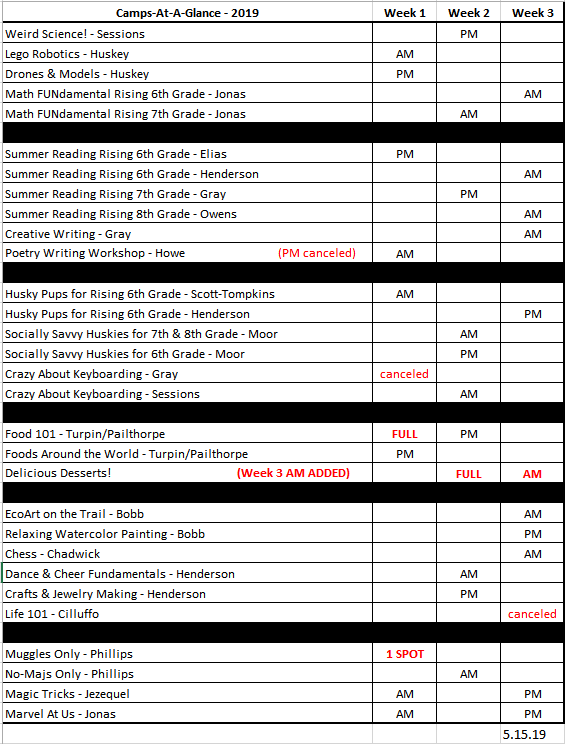 Delicious Desserts – Week 3 (AM Session)
ADDITIONAL SESSION OPENED DUE TO HIGH DEMAND!!!
This camp is all desserts! We will do a little bit of everything using easy to mid-level cooking/baking skills. We may even have a guest chef visit one day! Our goal is to make a minimum of three different desserts each day. Students will cook and clean daily. They will bring home samples of many of the items they make so you can taste their efforts. We will do some traditional desserts as well as some super fun recipes like a Raspberry Ripple Sandwich.  Kitchen and food safety will be worked into the camp daily.
Class Capacity: 10 students     Cost includes additional $30.00 fee for supplies.
Week 2 (AM Session) Class is full.
Relaxing Watercolor Painting – Week 3 (PM Session)
Campers will learn water color techniques to get different gradient washes and finishes. We will use these techniques and pen sketching to create different pieces from bookmarks, to cards, to full landscape paintings!
Foods Around the World – Week 1 (PM Session)
Come explore foods from other countries!  Learn about and make foods that highlight other regions of the world.  Our goals are to promote cooking skills, confidence in the kitchen, and a healthy respect for the diversity of food traditions in our world.  We will make several dishes daily while trying to keep them middle school taste friendly – We do ask campers to come with an open mind.  One spot left!
EcoArt on the Trail – Week 3 (AM Session)
We will mix traditional art forms of drawing, painting, design, photography, and clay modeling with elements from nature such as rocks, leaves, branches, and flowers.  Enjoy a morning walk on the HTMS trail to gather supplies for projects and do art installations along the trail!  The week ends with building a terrarium to take home.  You and your family will be able to enjoy the nature that you design!
Crazy About Keyboarding – Week 2 (AM Session)
Today's students have amazing texting skills, but the art of basic keyboarding has been lost!  Teachers are seeing that students are typing slower on desktops; often using only two fingers.  This class is an opportunity to learn proper technique including home row position and posture with structured techniques to increase accuracy and rate.  Increased keyboarding skills will help make school work easier and Typing Time is a fun program too! Week 1 (PM Session) is canceled.
Dance & Cheer Fundamentals – Week 2 (AM Session)
Campers will learn basic/fundamental cheer motions and techniques as well as a complete cheer-style dance.  They will practice basic cheers that can be applied to any sporting event. Classic and modern line dances will be taught as well.  Dance & cheer are wonderful ways to work in cardio exercise.  We will also do Zumba throughout the week to have fun and keep our hearts healthy!  
Drones & Models – Week 1 (PM Session)
Whether you choose a Star Wars kit, an historical military kit, or a modern car kit, anything is fair game to build!  You provide the model!  Hobby Lobby and Hobbytown USA have great selections. Learn tricks and tips to produce models similar to professional models seen in magazines.  Then, fly Parrot Drones and learn advanced flight techniques for FPV (First Person View) drones.  We will explore racing techniques and acrobatic maneuvers!  Please bring a smartphone to install the app.
Marvel at Us – Week 1 (AM Session) and Week 3 (PM Session)
Want to Marvel at the amazing heroes? We will dive into Marvel history and the earliest comics. We will create our own comic strip/book based on an existing character or one you create. We will discuss the Fantastic Four and the movies/comics associated with them.  Then, we dive deeper into the Marvel universe to discuss & watch the X-Men and the upcoming The New Mutants. Finally, we do the deepest dive into The Avengers. We will draw and discuss all the characters from Captain America to Iron Man to Captain Marvel. On the final day, we will present our finalized comic strip/book and discuss our characters strengths and weaknesses. Then we look into the future of the Marvel universe with movies like Black Panther 2, Gambit, and Guardians of the Galaxy 3!
Lego Robotics – Week 1 (AM Session)
We will explore advanced programming for Lego EV3 robots.  Emphasis will be placed on Lego Robotics competition builds.  Campers will compete using the obstacle course from last year's competition.  This is a great camp for those interested in participating in future Lego Robotics Competitions!  This class is over half full.
Husky Pups for Rising 6th Graders – Week 1 (AM Session) and Week 3 (PM Session)
Do you have a nervous soon-to-be 6th grade husky?  Campers will have the opportunity to meet new peers in a low pressure environment while seeing what it means to be a 6th graders at HTMS!  After looking into learning styles and personalities, we will complete sample lessons from different subject areas to help acclimate your student to middle school curriculum and rigor.  Students will get a sneak peek in to areas they will commonly visit – learning commons, computer labs, classrooms, and of course lockers.  Week 1 is almost half full and Week 3 is over half full.
Crafts & Jewelry Making – Week 2 (PM Session)
Campers will make different crafts each day and learn how to make jewelry (pearl/leather chokers), earrings, coasters, monogrammed t-shirts, sugar scrubs, etc and will practice scrapbooking skills.  Crafting relieves stress and is a life-long hobby. Learn how to make gifts for family and friends!  Before camp, an email survey will be sent to help determine which crafts will be throughout the week – so start thinking about what you'd like to make!
Socially Savvy Huskies for 6th, 7th & 8th Grade – Week 2 (PM Session)
Does your child need help navigating the middle school social world?  Could your student use some guidance with making and maintaining friendships?  In these groups, we will work on building confidence, improving communication and listening skills, and engaging in team work through group games, arts and crafts, and more.  Tips and tricks from Michelle Garcia Winner's Social Thinking programs will be utilized.  If your child needs help with "blending" and "the social fake", this is the class for him/her!
Creative Writing – Week 3 (AM Session)
Do you have a story to tell, a story waiting to leap onto the page?  This camp will give you the tools to finally put pen to paper to complete a short story.  Come enjoy writing and sharing your great ideas with a group of friends.  Creative writing exercises, character creation, plot development, and more await!  No grades, but people willing to work with you to improve your writing and ideas!  Are you the next J.K. Rowling?  This class is almost half full.
Magic Tricks! – Week 1 (AM Session) and Week 3 (PM Session)
Want to be a magician?  Learn sleight of hand and other valuable lessons from Zakary Jay!  This beginner class will teach card tricks, deception strategies, and performance tips to beginners and those who are more experienced.  We will delve into televised magic from shows such as America's Got Talent and Penn and Teller Fool Us.  Join us for a wonderful week of magic!  Abracadabra!  Alakazam!  Week 3 is almost half full.
MathFUNdamentals for 6th Graders – Week 3 (AM Session) & MathFUN for 7th Graders – Week 2 (AM Session)
Does your child dread walking into Math class?  This session will help lessen the anxiety of math and prepare your student for the next grade level.  We will work with and explore math in fun ways!  Students will also work on the appropriate math packets to be ready for the beginning of the next school year. 6th grade MathFUN is half full.
Food 101 – Week 1 (AM Session) and Week 2 (PM Session)
Back by Popular Demand!  This class is a hands-on introduction to food safety and cooking that takes place in our very own HTMS Café.  Campers will make several recipes each day including: Bread, Homemade Marinara, Garlic Knots, Smoothies, Scratch Frosting, and many more.  You will get to taste the culinary treats that your camper creates at the end of each day.  This was a huge hit last summer!  Week 1 is full.
Chess and Rubik's Cube – Week 3 (AM Session)
Fun Facts! Erno Rubik created the first prototype of the cube in 1974 and "Checkmate" comes from the Arabic "shah mat" which translates to "The king is dead" in English.  Who knew?  Chess teaches important lessons including problem solving, critical thinking, confidence, competition, sportsmanship, patience, and goal setting – plus, it's fun!  This class is open to all skill levels.  This class is over half full.
Weird Science! – Week 2 (PM Session)
Would you like to make your own snot!?!  Did you know that you can inflate a marshmallow without touching it?  Enjoy science through a series of exciting, weird experiments!  Finish each day with a fun competition of silly challenges, similar to Minute-To-Win-It, with fellow campers!  This class is over half full.
Summer Reading for 6th Graders – Week 1 (PM Session) and Week 3 (AM Session)
For 7th Graders – Week 2 (PM Session) and For 8th Graders – Week 3 (AM Session)
Knock out required summer reading!  Students will discuss and review book(s) and complete applicable projects.  Each class is structured differently so be sure to read the specific description for your camper's grade level and session. Reading for 6th – both sessions are over half full.
Muggles Only – Week 1 (PM Session) and No-Majs Only – Week 2 (AM Session)
You know what a Muggle is, but what is a No-Maj?  A No-Maj is simply an American Muggle or what Americans call non-magical people. In these classes, campers will enjoy crafts, sports, and food that welcome them to the Wizarding World!  The Muggles class will focus on experiences at Hogwarts –Quidditch, Potions, etc.  The No-Maj class will be similar to Muggles but with different wizarding activities.  Sign up for both classes!  Muggles is full.