Sponsorship is an excellent way to promote your business directly to 850+ families of our community while playing a direct role in supporting a safe and healthy school campus while continuing to offer enriched science and technology education to our school.
Help us to provide the funding to meet the needs at Hightower Trail Middle School, allowing the school to go above and beyond for each student.
February 2021 marks the beginning of our sponsorship program. By joining now, you will be one of the Husky Foundation Founding Partners. Your business will earn a place on our plaque recognition display in our school lobby. Plus we offer a range of opportunities to further recognize your company from now through the 2021-22 academic school year ending May 2022. 
Husky Foundation is a 501c3 Non-profit Organization
100% of your tax-deductible donation will go to our 2020-2021 goal for our students.
STEM Certified School
1034+ Students in Grades 6-8
850+ Families
105+ Teachers and Staff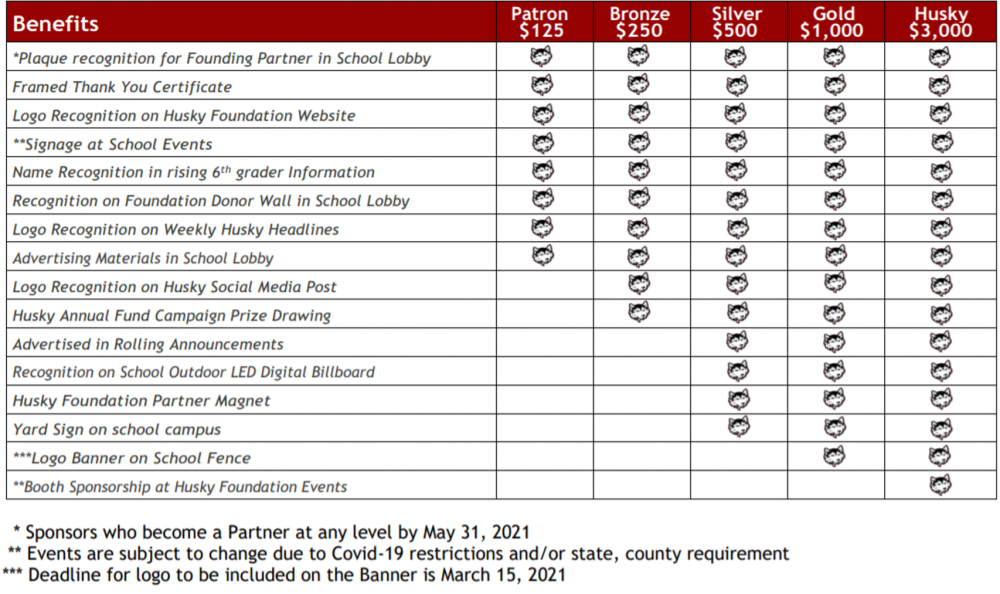 We'd love to hear from you.
Whether you have question(s) about the P.I.T. program or have any other ways that you would like to contribute to help us reach our goal. Drop us a line.